Authentic leadership is the art of being fully and powerfully yourself, in service of something greater. It can enhance your ability to foster the social change that is so strongly needed in our world.
We invite you to explore a new paradigm of leadership for the 21st Century.
Authentic leadership allows you to lead in a way that:
Fosters meaning and purpose for yourself and for others;
Facilitates effective interpersonal relationships and team processes;
Enables calmness and clarity when faced with complex situations and challenges;
Embodies and models the change you wish to see in the world; and
Aligns your intuition, mind, body and heart when decision making.
Please join us for a 2-day intensive workshop. We will explore a model of 9 leadership capacities which
authentic leaders find essential in their lives, both personally and professionally.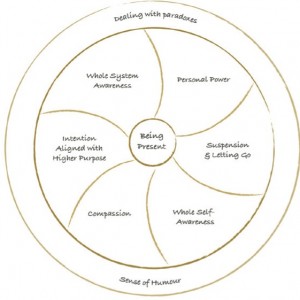 The 9 leadership capacities consist of:
Being Present
Suspension and Letting Go
Whole Self Awareness
Compassion
Intention Aligned with Higher Purpose
Whole System Awareness
Personal Power
Dealing with Paradoxes
Sense of Humor
During this experiential workshop, we will learn how to cultivate these 9 capacities by witnessing leaders that exemplify them, and then we will invite you to begin integrating what you learn via participatory activities.
Our goal is to seed new ways of being, so that you can immediately begin to feel more yourself and empowered to lead change in the systems around you. We aim to equip you with concrete practices, exercises and self-reflection processes which will enable you to continue to develop your 9 leadership capacities as you head back into your everyday life.
Join us! December 7 and 8, 2012. 9:00am-5:00pm daily. Please download the flyer here.

To find more information on The Lotus model and the freely downloadable guidebook, "The Lotus: a Practice for Authentic Leadership towards Sustainability," please visitwww.thelotus.info